Credit Rendezvous: Pass masters
To read the 16-page Credit Rendezvous, an overview of 14 segments of the credit market, click here. This quarterly Creditflux report covers the most liquid assets such as CDS, through to buy and hold investments such as distressed debt, and everything in between
---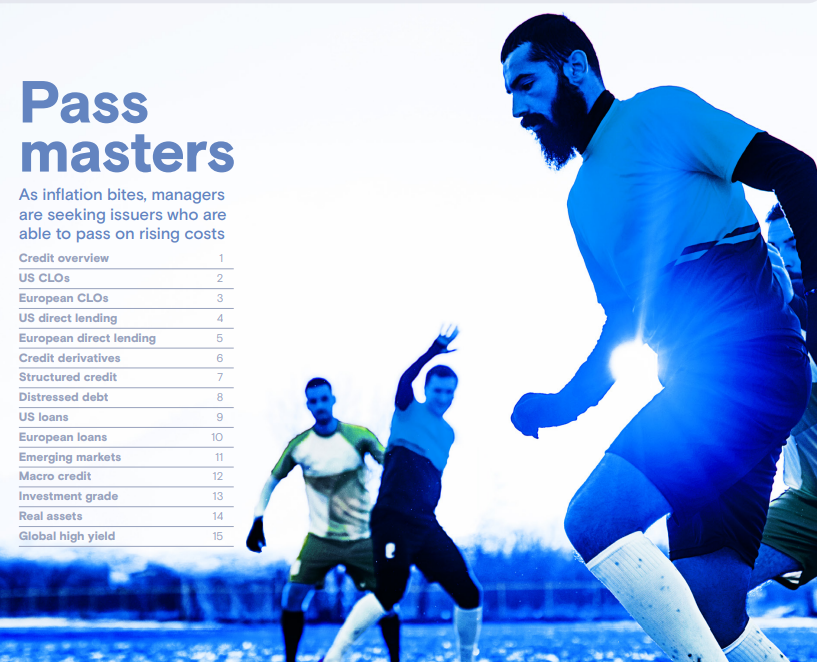 Most often, a credit market downturn has its roots mired in one big, blatant obstacle that credit managers have to focus their attention to overcome. But right now it's not the dominant risk factor that has to be defeated, it's the sheer number of them.
In Creditflux's Credit Rendezvous, we spoke to credit specialists across the market. Vontobel's head of emerging market corporates Wouter Van Overfelt summed up things well, describing the greatest challenge as "pricing in the multitude of risks".
This includes escalating inflation and accompanying interest rate hikes, covid-19 persistence and lockdowns in China, supply bottlenecks, a rise in credit dispersion, commodity price shocks and, of course, Russia's invasion of Ukraine.
The war stands alone as a humanitarian crisis. But its direct impact on the credit markets has been more contained than might have been expected, given the scale of devastation it has inflicted on human lives. Instead, inflation is the most pressing concern.
Angelo Gordon's Nicola Mueller says that, although this is a risk, it could take time to play out because companies have done "astonishingly well" to pass costs on to consumers.
"Consumers are effectively absorbing all the price increases," she says. It will take time for spending habits to realign.
Fair Oaks portfolio manager Tyler Wallace thinks changes could be afoot later this year.
"Every credit we were in last year was a price maker and could raise their prices," he says. "That's not realistic when looking forward to the second half of 2022 and 2023. Lots of these companies will become price takers, and whatever raw materials they buy — such as wheat — they aren't going to be able to pass that cost increase on automatically."
Entering 2022, loan and floating rate products had considerable upside attached with anticipated rate hikes expected to drive inflows into these markets. But throw in all the other catalysts for volatility and loan portfolio managers are paying close attention to downside risk.
"We're now having a lot more discussion around the potential for error in execution and idiosyncratic risk across borrowers," says Bardin Hill Investment Partners' head of performing credit Phil Raciti.
Other themes to look out for is decoupling between Europe and North America with the war in Ukraine having a more direct impact on European geopolitics.
High yield and investment grade could also move out of sync, with various investors pointing to the large amount of low single B-rated credits in the system. Issuance patterns in these markets have also been at odds with each other, with high yield drying up in March when IG volume approached a record as issuers sought to get ahead of rate increases.
Vanguard's Kunal Mehta says one of the overriding positives so far this year is how IG credit has absorbed the correction to higher rates.
"The ECB's change of stance was quite unexpected, and although the US Fed's hawkish rhetoric was not unexpected, the aggressive nature of its interest rate increases was," he says.
The last crisis the market endured in 2020 was all about covid, when society was mindful of not passing on any infections and keeping numbers low. Today, issuers are fixated with passing on rising costs to their customers, precisely because (inflation) numbers are high.
The latest instalment of the Credit Rendezvous features Scott Farrell (Sycamore Tree); Vedanta Bagchi (Commerzbank); Sengal Selassie (Brightwood); Mike Dennis (Ares); Finbar Cooke (Barclays); Ivan Zinn (Atalaya); Nicola Mueller (Angelo Gordon); Philip Raciti (Bardin Hill); Tyler Wallace (Fair Oaks); Wouter Van Overfelt (Vontobel); Eric de Sangues (Fairwater); Kunal Mehta (Vanguard); Amie Stow (LGIM Real Assets); Bob Kircheff (Shenkman);
<<END>>