The results are in for the Creditflux CLO Census 2023
After a lacklustre year for the CLO market, the 539 respondents to our comprehensive survey of the state of the market are increasingly calling for structural changes, from electronic trading to standardised documents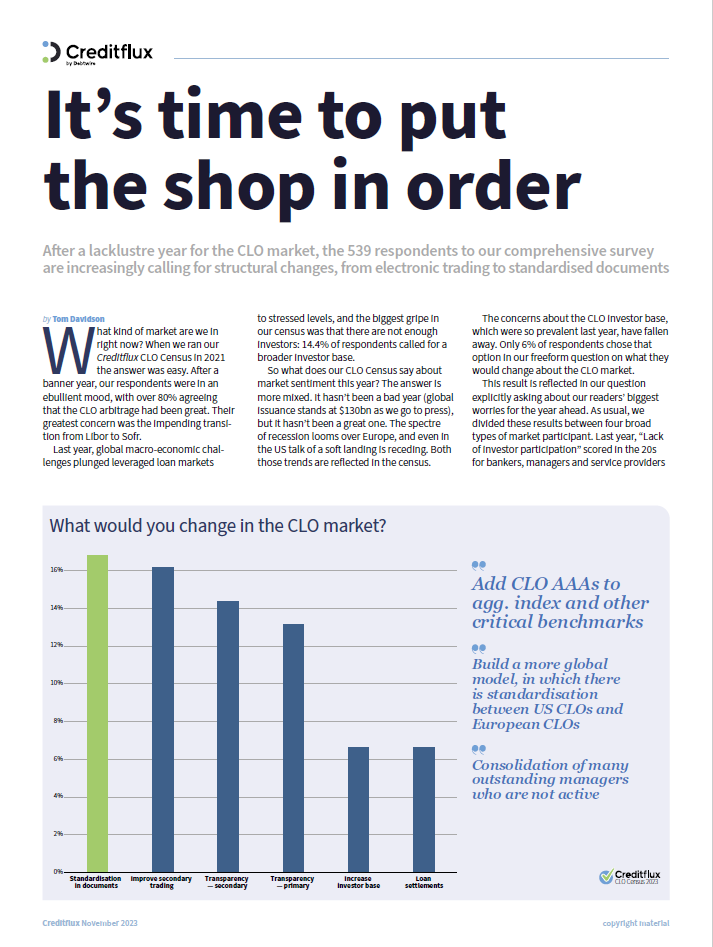 What kind of market are we in right now? When we ran our Creditflux CLO Census in 2021 the answer was easy. After a banner year, our respondents were in an ebullient mood, with over 80% agreeing that the CLO arbitrage had been great. Their greatest concern was the impending transition from Libor to Sofr.
Last year, global macro-economic challenges plunged leveraged loan markets to stressed levels, and the biggest gripe in our census was that there are not enough investors: 14.4% of respondents called for a broader investor base.
So what does our CLO Census say about market sentiment this year? The answer is more mixed. It hasn't been a bad year (global issuance stands at $130bn as we go to press), but it hasn't been a great one. The spectre of recession looms over Europe, and even in the US talk of a soft landing is receding. Both those trends are reflected in the census.
The concerns about the CLO investor base, which were so prevalent last year, have fallen away. Only 6% of respondents chose that option in our freeform question on what they would change about the CLO market.
The full Census 2023 is available
here
.
Methodology
• The 2023 CLO Census was an online survey open for two weeks from 5-20 October. We received 539 responses, compared to 389 in 2022.
• We asked respondents to indicate if they were a CLO manager, investor, banker/ trader or service provider.
• We vetted responses line-by-line and eliminated cases where companies voted for themselves or for affiliates.
• We would like to thank the CLO community for its support.
<<END>>