Creditflux to bring CLO conference to California
Creditflux is delighted to announce the launch of a new CLO event in California. The US west coast CLO community is rapidly growing with new investors and managers emerging in this part of the world. On 20 June, Creditflux West will provide the ideal platform for a thought-provoking half day event in Santa Monica, which will include Creditflux's familiar in-depth content followed by cocktails overlooking the beach.
Creditflux West joins Creditflux's long-standing CLO conferences in London and New York.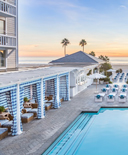 Shutters on the Beach, Santa Monica
The days of the plain vanilla CLO seem to be a thing of the past, with a host of structural innovations drawing in a new, diverse set of investors. Some innovations are dramatic; CBOs, high-triple C CLOs and applicable margin reset (AMR). But even within the more traditional approach the product is diversifying, with short-dated deals and fixed-rate notes showing recent popularity. The content at Creditflux West will be focused on those structural changes, big or small, including a deeper dive into how the AMR process works from local experts KopenTech. More information on the agenda is available at the event website
here
.
This inaugural event is free for the first 100 buy-side delegates. To claim one of those free passes, or to buy a sell-side or service provider pass please see the booking forms here.
<<END>>