Direct lending to be stress-tested at Creditflux event
As some European economies flirt with recession, direct lenders investors can be forgiven for looking nervously at their portfolios of debt investments in a less-tested asset class. Those attending Creditflux Direct Lending on 13 March may feel a little better after hearing from the 12.30pm panel that asks three notable managers how they are "Preparing for distress".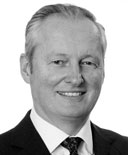 The line-up (CVC senior managing director Neale Broadhead, Cordet Capital's Christian Dybdahl-Ovesen and James Burns, managing director at Crescent Capital) will be quizzed by Wilmington Trust's Joe Knight about whether they are seeing any signs of stress in their existing portfolios, how they are preparing for the inevitable challenges to come, and what impact any weakening of underwriting standards could have on distressed situations.
More information on the rest of the lineup at the conference is available here.
<<END>>